Combined viral and bacterial BRD protection is IN
…with Bovilis® Nasalgen® 3-PMH, the ONLY INtranasal vaccine that helps provide 5-IN-1 protection against bovine respiratory disease (BRD).
Available formats:
25 x 1 dose, 10 doses and 50 doses.
Mixed viral and bacterial BRD infections were identified in MORE THAN 50% of positive samples submitted to a major Canadian diagnostic laboratory in 2019.1
Bovilis® Nasalgen® 3-PMH:
Helps provide broad respiratory protection against five of the most common viral and bacterial causes of BRD* in just ONE convenient dose.
Allows for vaccination as early as one week of age, without having to worry about potential maternal antibody interference.2
Contains a proprietary BluShadowTM diluent that helps clearly identify vaccinated animals – no more second-guessing!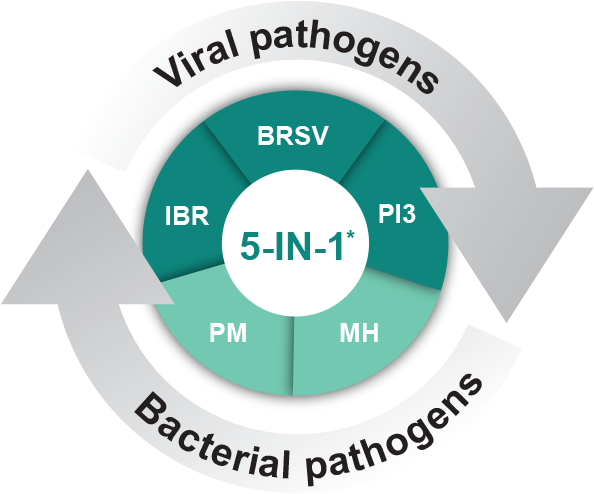 *IBR: Infectious bovine rhinotracheitis virus, BRSV: Bovine respiratory syncytial virus, PI3: Parainfluenza 3 virus, MH: Mannheimia haemolytica, PM: Pasteurella multocida
Always read and follow the label instructions to ensure this product is suitable for the animal to be vaccinated. Vaccination may not protect every animal that gets vaccinated.


The new look of protection.
All cattle vaccines from Merck Animal Health now live under the BOVILIS® name. They're the same vaccines – only with updated names and packaging. Each product has its own distinct color and is clearly marked, making it easy to ensure you're selecting the right vaccine at the right time.
1. Savard C, and Broes A. Bovine respiratory profiles summary in 2019. Biovet Animal Health News (2020) Available at https://biovet-inc.com/wp-content/uploads/doc/info/Bovine_respiratory_profiles_summary_2019_rev.pdf. (Accessed November 2020.)
2. Gerdts V, Muywiri GK, Tikoo SK, and Babiuk LA. Mucosal delivery of vaccines in domestic animals. Vet. Res. (2006) 37:487-510
DOI: 10.1051/vetres:2006012. Available at: https://www.vetres.org/articles/vetres/pdf/2006/03/v6030.pdf (Accessed December 2020.)

BLUSHADOWTM is a trademark of Intervet International B.V.; BOVILIS® is a registered trademark of Intervet International B.V.; NASALGENn® is a registered trademark of Intervet Inc. All trademarks used under license.