Implanting with

All implants in the Revalor® line are designed for use with the automatic Revalor® implant applicator. Watch the video and read the below instructions to learn how to administer Revalor® implants to your steers and heifers. Before implanting, ensure the implanting site is clean, disinfected and dry.
(NOTE: The RalogunTM applicator, wich is designed for Ralgro® implants, is NOT compatible with Revalor® implants.)
Method of administration
1. Do not remove the cap (C) of the cartridge containing the implants.
2. Place the cartridge (D) (with the capped end to the front) into slot at the top of the implanter magazine (labelled A on the diagram).
3. Gently push the cartridge into the slot until it clicks into place.
4. The implanter is now ready for use.
5. Take the ear of the animal firmly with the free hand (in the manner shown in Figure 1) and insert the needle into the subcutaneous tissue at the point indicated (Figure 2). Press the trigger (E on Figure 3).
6. The retraction bar will automatically withdraw the needle from the ear aiding in depositing the pellets of the implant in a single row.
7. The gun automatically advances the cartridge to the next implant.
8. When all the implants have been administered, the cartridge will fall out of the bottom of the magazine and may be replaced by a new one.
9. To change the needle, loosen the needle locking nut (labelled F in Figure 3) and replace the needle. Tighten the nut finger tight and the implanter is ready for use.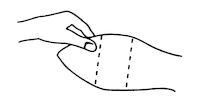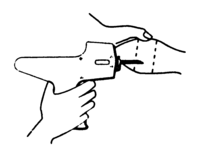 REVALOR® is a registered trademark of Intervet International B.V. Used under license.